---
Unveiling The North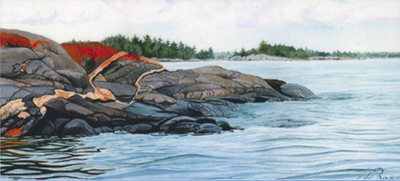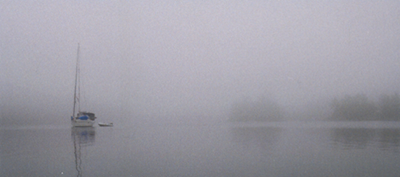 An Art Exhibit Featuring
Watercolourist Lu Robitaille & Photographer Ingrid Saaliste
Reception – Opening: White Wall North Gallery
Sunday November 28 2-5pm
Music by: Pianist John Graham
The exhibit will run from November 28th/2010 until January 15th/2011
See below a slideshow from the opening reception
---
Custom framing is a continuing evolving art, materials and techniques are improved every day in order to better serve more and more demanding clients. In that particular order of  ideas we have introduced a new level of  craftsmanship into our workflow, that delivers outstanding quality and increases satisfaction to our clients.
The task at hand was to create a solid shadow box, that could hold a wooden-mounted-two-dimensional figure and be kept under  a rigorous  conservation  environment;  a 2 3/4″ deep wooden gold molding will hold the piece in place allowing enough space for the glass.  We did line-up the walls using off white acid free foam-core to match the white balance of the piece.  Museum grade glass  (99% UV resistance, anti-reflective) 3mm was used as well, so the viewing area of the artwork wouldn't be disturbed by glare reflections  and to enhance the archival properties of the same.  we did use also d-rings on the back in order to provide better stability and security when hanging.
Specs:
28″ x 38″ framed
40 pounds finished ( approx)
wooden frame, lined walls
museum glass, optimal grade, UV resistant
As a background info, we managed to gather so information regarding the origin and specification of this piece:
Lord Shreenathji – Child Shree Krishna
Temple: Shreenath Dwara, Rajastan (India)
All handmade
3 to 4 months completion time
Pigments (color) are 100% organic made
Diamonds  and precious gems
gold color is made from real gold
It will hold color and details for about 200 years.
---
The art of custom framing has been around for centuries, and throughout the years, innovation in great lengths have taken place.  From acid free mats and mounting boards, to the double miter saw and automatic v-nailer for cutting and joining frames with great precision and efficiency, the industry is constantly evolving.
With no discredit to the leaps and bounds this industry has seen throughout the years, one recent innovation that stands out in my opinion is the creation and introduction of museum glass.
Ooohhh… Museum glass sounds fancy… sounds expensive.  Well – it is. No words can or are needed to sell it.  After all the framing decisions have been made, my final question to the client is: What type of glass would you like?  More often than not, their answer is "glass type"?  What do you mean?  We have an option?  That's when I say nothing and point at a framed sample hanging on the wall, with three panes of glass practically seamless, covering the front of the artwork: regular on the left, non-glare on the right and museum in the centre.  30 seconds later, the question is asked: What am I looking for?  Then I tap on the centre pane of glass.  The look on the client's face is priceless.  I thought there was no glass there, they say.  Exactly, I respond.  Although I have never been a fan of upselling, I have had clients disappointed when I did not give them the option.  So now I offer specialty glass to all clients framing original art, fabric, photographs or anything else of value, monetary or sentimental.
Museum glass not only looks practically invisible, it also filters out 99% of UV light, hence the name Museum.  This brings us to its rebel cousin, AR Glass, my personal favourite.  Optically, it is identical to museum glass, with 2 differences.  It filters 78% of UV light and is approximately 40% less expensive.  Why is it my favourite you ask?  Well, UV filtering glass only slows the process of deterioration in the art work down.  It does not eliminate it.  The best way to protect it from UV is not to expose it, and that is not very enjoyable, is it?  So hang it, look at it, love it, and let others enjoy it.
Museum and AR glass comes in sizes as large as 40 x 60, as well as 48 x 96 in acrylic.  Museum glass retails for $65 for a 16 x 20 piece ( ¼ sheet), and AR is $45 for the same size.
Other glass options are available, such as
| | |
| --- | --- |
| Regular glass | 45% UV filter |
| Non-glare (fuzzy) | 45% UV filter |
| UV Clear | 99% UV filter |
| UV non-glare (fuzzy) | 99% UV filter |
| Acrylic | 66% UV filter |
| Museum acrylic | 98% UV filter |
Next time you visit your framer (preferably us!), ask for museum or AR glass.  Remember AR is almost invisible and is not non-glare (the fuzzy one).  For more extensive product information, visit the manufacturer's web site directly at truview.com.
Steve Morkotinis

---
Recently we have produced a number of frames for the Levi's Store @ Montreal's Eaton Centre,  our client required a number of  materials that would reflect the nature of the jeans as well as the look and feel of the final frames.
Worn vintage jeans, jackets, west coats and other accessories were framed in deep shadow boxes, floated over textured mats; the final result was nevertheless great and truly reflected our client's requirements.
See below some samples of the finished order.
---